3 Best Platform Boots to Complete Your Outfit
'Tis the season. For more shoes! Have you been on the hunt for the perfect stylish platform boot? Look no further! I've done a mini-roundup of 3 of the best platform boots to complete a variety of outfits. I wonder if you'll be able to identify the pair that currently has me in a style chokehold. They are on repeat and worn with everything. Whether you're looking to add a little extra height or just want to make a statement, this roundup of platform boots is sure to bring something special to your wardrobe.
Sorel
My first pick is a classic design with an edgy twist. These lace-up ankle boots feature an eye-catching chunky sole and sleek leather upper that will take any outfit up several notches. The Sorel Brex Heel Lace and the Sorel Brex Heel Cozy Lace are ideal for those who want both function and style. They are waterproof, comfy, and highly complementary to diverse styles. The Cozy Lace version is a particularly fun addition to your wardrobe, with its multi-textured and monochromatic design. Take a look for yourself.
The heel height is 3 3⁄4 in and the platform height is 3⁄4 in. I consider these boots to be lightweight. Bonus style points in that I can stay on my feet all day and not have discomfort.
I started with the New Cinder (wine) colorway and after one wear and multiple compliments, immediately ordered the black pair - check them out side-by-side:
Tory Burch
I am absolutely smitten with the Chelsea 70mm Lug Bootie by Tory Burch. It's a cool and classic Chelsea style with a contemporary aesthetic. Black is good if a classic or drama-free color is your vibe. But if you want to add a bit of punch to your look, go with the Toasted Caramel colorway. The Lug Bootie is an elevated but comfortable platform-style bootie that can be both casual and dressed up.
The Tory Burch Chelsea offers plenty of lift without sacrificing any comfort. They are excellent platform boots to complete your outfit.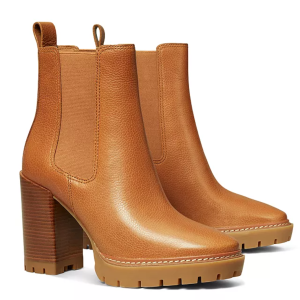 Stuart Weitzman
Who would have ever thought combat-style boots would be all the rage? Not only all the rage but actually stylish enough to easily incorporate into a minimalist or maximalist style aesthetic. Not all combat-style, platform boots are created equally, but the Norah by Stuart Weitzman is a favored bold and comfortable slip-on design. I think the white upper with the black sole is a fun design, but I get that it may not have as much longevity...so here you go. Classic black. I love to try and present an alternative color that further elevates the style.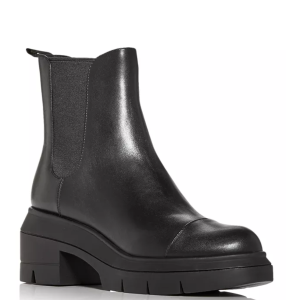 Shopping Tips for Platform Boots
When shopping for comfortable platform boots, double-check that the arch support is right. I like to test the arch support when my feet are rested, to make sure I can properly gauge the comfort. I also like to make sure the cushioning won't wear down quickly after multiple wears. Of course, you can always add an insole, but my preference is to buy boots with a well-padded footbed. Whichever style you decide on, they're sure to become your go-to shoe in no time!