Ya'll know by now I love a stylish, boho kimono. Some ladies call them a "duster." Whatever you call them, I have found them to be such an easy wardrobe staple to match your personality, while adding some emphasis to your look with minimal effort. I tend to lean towards a boho kimono that has intricate details or luxe effects, to pair with an otherwise neutral look. Of course, it's up to your confidence and comfort level to wear your kimono over clothing that meshes with your personality.
I have a couple of the very thin, flowy, lounge-wear kind of kimonos that are perfect to wear with swimsuits or over denim shorts and tank tops. I only use them for those types of occasions, so I stick to the fast-fashion styles for them.
By far, my favorite types are the kind I can layer over an all-denim look, over a sundress, or over a pair of slacks to "tighten" up and elevate my look, day or evening. Because it's such a versatile, on-the-go piece, it's one of my go-to items when I'm traveling. Side note: if you're worried about wrinkles, by the way, you definitely need to get this travel steamer in your life if you haven't already. Gamechanger!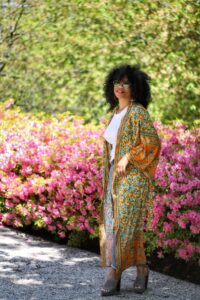 This Anthro kimono-slash-duster (below), is my trendy head-turner. I love, love, love the ombre sequined design, and even though it feels a bit, "on-trend" I'll wear it for years. Pictured is the rose colorway but the coral and the silver are equally stunning.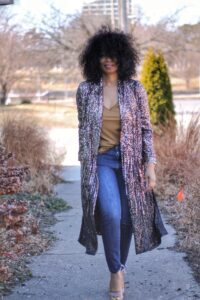 Typically, I don't shop Etsy for clothes but when I spotted this breezy boho kimono, that was over. The color caught my eye, and I thought the silhouette was beautiful! I've ended up supporting lots of small designers on Etsy after realizing the awesome quality and styles I'd been missing out on.
You've got to see these (here, and here). They are on my Etsy wish list which means they'll be hidden in the back of my closet so the hubs can't find them very soon. So chic and pretty, right?
If you are already about that boho, kimono life, please let me know one or two of your favorite ways to wear them. I need to know if I'm missing out! LOL. If not, I hope you are now inspired to take the leap!