The four perfect little white dresses
It's that time of year where I play the odds and see how long I can last in a little white dress before an accident happens. So far, it's been good. Maybe because God knows just how much I need to lose the sweats and show up for our living room and patio date nights with a little more razzle-dazzle... Remind this man who he married! Lol.
That's my plan, folks. I'm going to bring a little more of my A-game to our at-home dates, just to switch things up a bit, starting with one of my favorite, self-care things - getting cute!
If a little white dress is your vibe, or on your list, check out some of these faves and why they made the top four:
Besides the obvious (he'll love to watch me walking away, duh), this dress will be awesome to wear with a brightly colored blazer...or if you prefer a neutral aesthetic that works too. But for straight-up date nights or little, cocktail parties, this luxe for less, LWD from Lulu's is a top contender.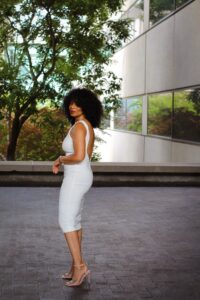 Next up is the Free People slip dress. It's the cutest, ruffled hem mini that is perfect for your staycation, vacation, whatever it is you plan to do. It's not too trendy and generally, the Free People brand tends to be a good value for the price. It screams, effortless and chic.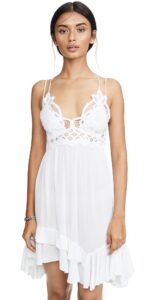 I don't know who's throwing any white parties this summer, but just in case you want to hold on to this number for next year, this timeless beauty is perfect for such an occasion. It's flirty but classic. Actually, I can see this dress being worn for brunches, for engagement photos or bridal showers, and all those fun photo-worthy occasions.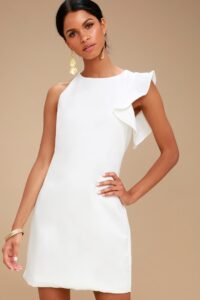 Rounding out my top four little white dresses is my go-to brand for special occasions. Likely never fails me and this style is one of my favorite silhouettes. If you've been following me for a while, you'll remember my wine-colored dress with the black lace overlay by this brand. As far as I'm concerned, Likely does not miss.