Best Dupe for Spanx Leggings
Inevitably Facebook knew exactly what I was looking for because of 1) ad retargeting and 2) NFC, and 3) all the demo and location data it's collecting. Anyway, I was right on the verge of ordering more Spanx Leggings after seeing all the gorgeous, new fall colors served up in my Facebook feed. But something in me, which was probably my husband's voice if I am being real, said, "I bet you can find a cheaper version somewhere else." I won't tell him but listening to that voice sent me down a faux-leather leggings rabbit hole. The great news is I came out of the hole with some incredible dupes for the Spanx leggings, for just about half the price. It's a two-for-one!
I've got to give a caveat. I love, loooove faux-leather leggings. My Carbon 38 and Spanx leggings have been some of my favorites. They are so comfy and flattering, and quite frankly I also love the way my hubs responds when he sees me in a pair. I didn't mind spending more time than average researching and reading countless reviews on multiple options before I finally committed to some I wanted to test.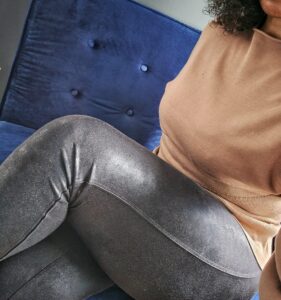 Enter the Retro Gong Faux Leather Leggings. Ladies! They do not disappoint. My first thought when I put them on was "shut the front door." They look good. They feel good. They are comfortable and they are cinching without trying to squeeze your innards out. You've got to check out my photos below or my video, but no one other than you will know they aren't the Spanx leggings. I should point out, the lining of the Spanx leggings are a bit silkier to the touch. The Retro Gong leggings aren't scratchy, they just aren't as soft.
These Retro Gong leggings come in four colors; classic black, navy, a rich wine color, and the delicious shade of brown you see pictured. They've got over 7800 (and counting), 4.5-star reviews. I don't always take reviews at face value though because the sizing can be inconsistent and don't even get me started on the quality. I have felt bamboozled by positive Amazon reviews, for certain.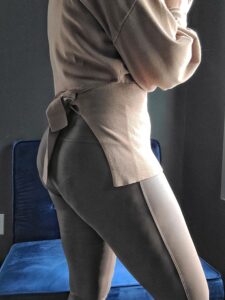 This pair of dupes, however, does not disappoint. They are the perfect example of a luxe look at a reasonable price. So reasonable that you can snag a couple of colors for the price of one pair of Spanx Leggings. Go ahead and get after them. You won't be sorry.
Shop the Looks