Affordable Graduation Invitations
When is the last time you received a beautifully, handwritten "thank-you" card or note from someone in the mail? How about an invitation that wasn't electronic? Isn't it always a fun surprise when you do? I was floored when I opened the mail a week or so ago to receive the most thoughtful card from my 19-year-old mentee, in a world where it seems a quick email or text now suffices. It was so unexpected and pretty...I plan to hold on to it. That's the thing about personal notes or cards. You do want to tuck them away for your memories, nostalgia or sometimes they are just too dang cute to throw away. Or maybe that's just me. Either way, getting that thank-you card has made me want to be a person that always sends a little somethin', somethin' through the mail and only rely on technology for one part of it. The design!
Evites are cool for simple occasions like game night or your house-warming party but as a famous comedian says, "New rule." Big events and occasions call for doing it big. I'm talking about those once-in-a-lifetime events, like high school and college graduations (and the surprise parties of course), baptisms, bridal showers….you know, the things you really want people to celebrate and commemorate with you.
Now, before I tell you how you can level up on your custom invitation and stationery needs, I have to give you a fair warning. What I am about to share with you is addictive. You can get lost playing around on the site with colors, elements, fonts, and images. It is somehow relaxing but also pretty fun to create custom stationery that is uniquely "you." None of that, "Oh this one will do." You get exactly what you want because you are virtually creating it through an easy-to-follow, guided process. It's slick and it's Basic Invite.
Here are just a few things I think you'll love about Basic Invite:
There are almost unlimited colors AND you can instantly preview your designs online once you select a color. When you find a design you love you can change the color in any element of the design with over 180 options to choose from. You get exactly what you want down to the smallest detail. I've got to take a second to point out that not only can you customize every detail but the cost is easy-on-the-wallet.  So if you are thinking of graduation invitations (because it is that time), you've got to check out their

affordable graduation invitations

.

Not quite sure it's going to fit your theme, palette, personality or style? No worries - Basic Invite will allow you to order a printed sample of your actual invite just so you can be assured of what it will look like and the quality before you place your final order. Winner!

You aren't stuck with a plain Jane, white envelope if that is not your theme. You want your mail to stand out - no problem. You can choose from over 40 colors and the envelopes are peel and seal.

This feature is a beauty. You don't have to worry about sending out multiple text messages trying to gather addresses and then store them somewhere else to get them on an envelope later.

Basic Invite

has got you covered. There is this suh-weet, address-capturing service that allows you to share a link on your social channels (Facebook, Instagram, Twitter, or wherever) to request your friend's and family's addresses to store in your account. During the design process, you can select those addresses and have them printed on the envelopes at

no additional cost

. Hellllllooo? Are you there? What's not to love?
No knock to the cards you can pick up at any discount, or retail store but I am so impressed by my custom stationery - it fits my personality to a tee. Now when I want to thank someone after consultation or just send a note to say "Hey girl, you were on my mind," I will be doing it with style and a reflection of my style blog thanks to Basic Invite.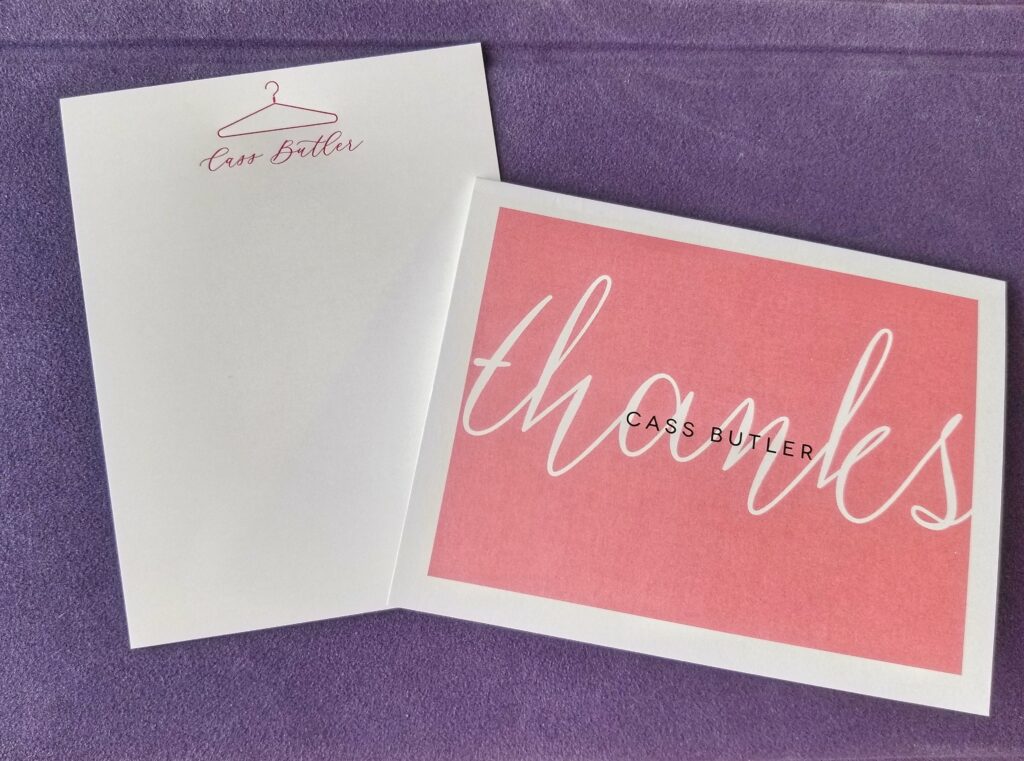 You know spring is upon us which means it's time for all the showers. Baby showers, bridal showers, daddy showers. You name it. So...go, right now, to Basic Invite and customize something awesome to send to your friends and family. Currently, Basic Invite is offering 15% off with the coupon code: 15FF51 - making all of your invitations even more affordable!