Best Vacation Getaway You Never Heard Of
Name one thing you expect to find in the desert. I bet you DID NOT say a reservoir filled with 900 acres of cool and inviting waters with a backdrop that silently brag of nature at its finest. Given I'm not selfish (except when it comes to my coffee), I have to share with you one of the best vacation spots I'd never heard of until recently - Canyon Lake, Arizona. If you love nature and water activities and don't want to be confined to a few measly months in the summer you get to enjoy those things, add Arizona to your year-round travel list.
Let's talk Canyon Lake though. It is a quick drive from Phoenix – depending on where you stay it's about a 40-minute drive. Once you get out of the city limits, the real fun begins. It is a scenic drive through the mountains on the Apache Trail. Side note, the Apache Trail is not necessarily for the faint of heart, but the ride and the views are an amazing experience. It's a lot of narrow roads with stunning views of canyons, formations, vegetation and of course desert plants. It's a trail you don't want to rush – a leisurely drive allows you to really take it all in. You'll find people pulled off to the side of the road taking pictures or simply admiring the views. There is also an official vista you can stop at before you get to Canyon Lake so you can safely take in the greatness of the elevation and all that surrounds you.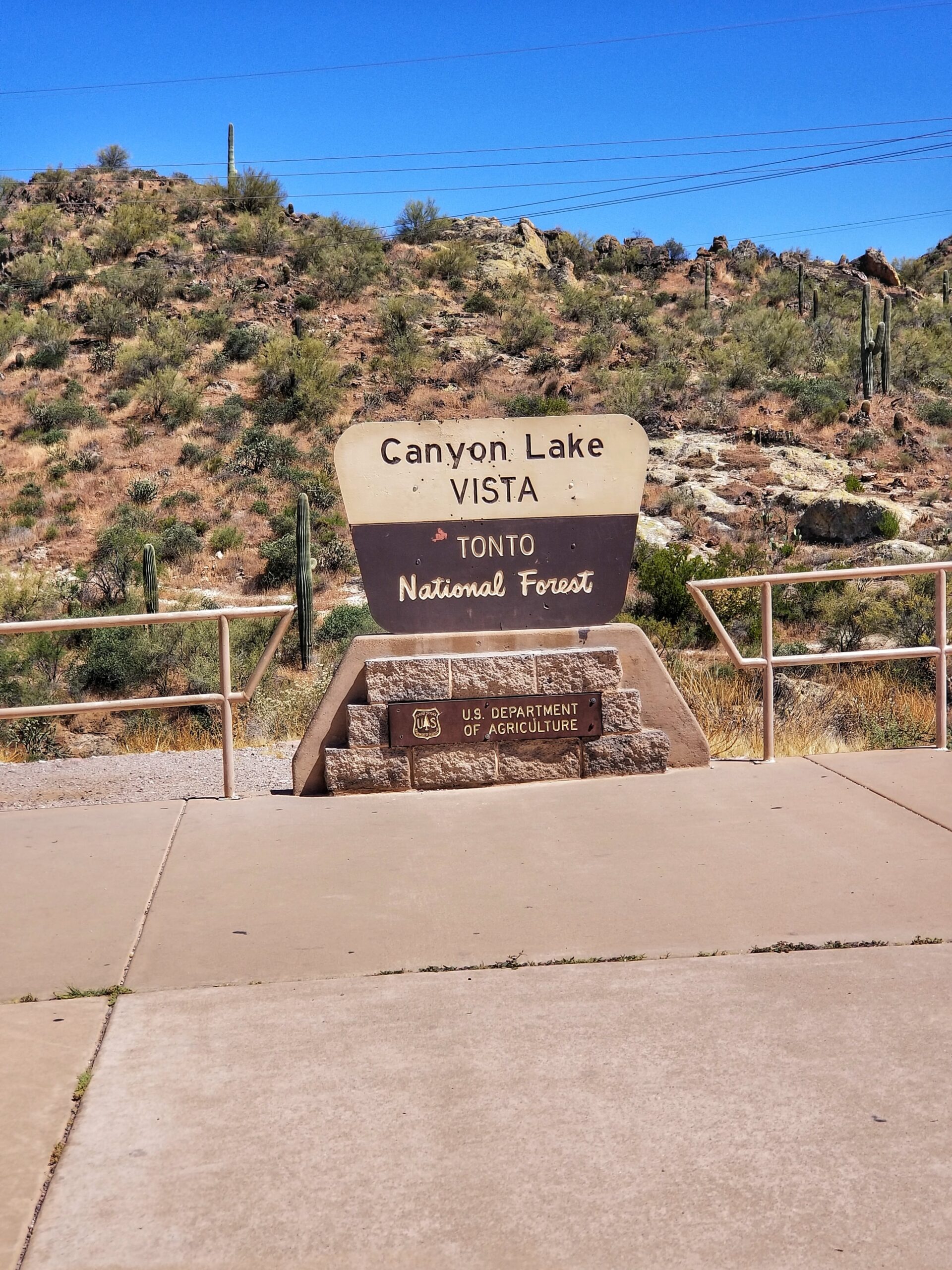 When you make it to Canyon Lake, you'll find it hard to believe that the lake was created as a result of the Salt River Dam Project. It is simply impossible not to be taken in by the lake's beauty. As I boated through the lake, I was transfixed by the red canyons, the massive rock formations and of course the cacti dotting the landscape. It was also cool to spot a couple of eagles coasting the water trying to snatch up their fish near the surface. But, let me back up a bit.
Boating! There is a marina at Canyon Lake that will take care of whatever you might need so you can get out and explore. You can get a pontoon, runabout, fishing boat, kayak – whatever. You can wind sail, waterski, fish or just run the waters and take in the glory of it. Jet-skiing is also an option but you can't rent those at the marina.
Our exploration of Canyon Lake was on a runabout with a 5-person, inflatable sombrero hooked to the boat. I've got to tell you, there were so many moments I thought "it doesn't get any better than this." Absolutely no cares, just the serenity of being on the water, with a flawless sky gazing out at the wonders of God…it's hard to explain.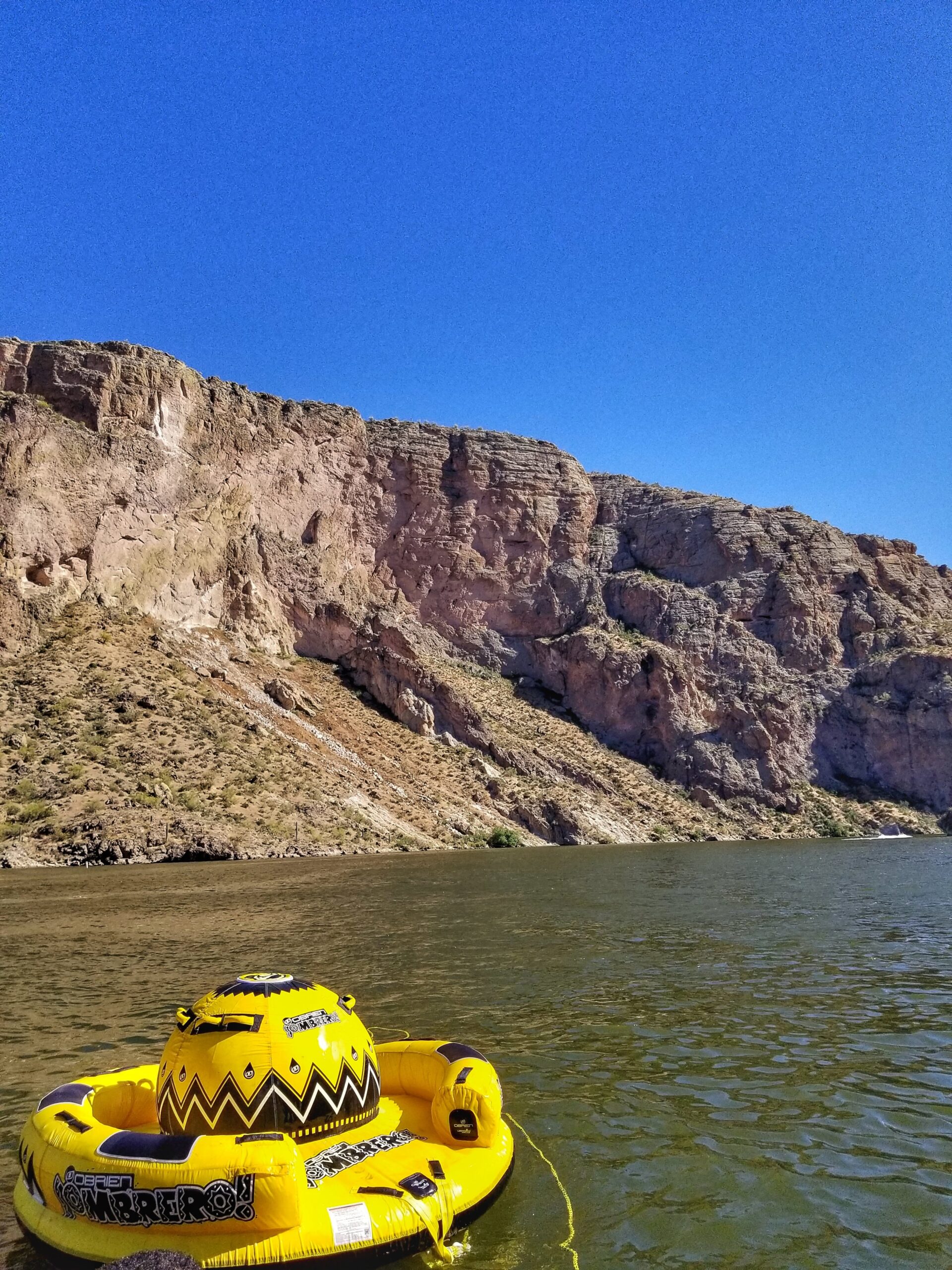 We didn't spend the day fishing but there were plenty of folks on the shore and on their boats chilling, soaking up the sun and the scenery while waiting on fish to bite. I'm told the lake has rainbow trout, bass or channel catfish.
There's a chill restaurant + cantina at the marina for casual food. If you are looking for something low-maintenance with the perfect mix of city + nature options, including camping, Canyon Lake is a home run. It really is the best, little getaway (relatively inexpensive too), that you've never heard of. Spend a day or two on the lake as we did, then explore all that Phoenix has to offer. Since Tucson is pretty close, that was on the itinerary too.
It's an upvote for me – Canyon Lake, Arizona will remain in the stateside travel rotation. If you visit I hope you find it just as amazing and explore more of the Apache Trail and the other two man-made, desert lakes.