KCFW Local Jewelry Designer Rips the Runway
You've got to get to know Clarissa "Rissa" Knighten and her head-turning wearable art. You don't have to be a fashionista to appreciate the beauty in her custom creations. Rissa has been creating and designing for the past 12 years. She'd set her sights on becoming a full-time designer and through divine intervention, that dream became a reality. After 19 years of working for a private-sector employer, her position was outsourced. That might frighten the faint-of-heart but it gave Rissa the push she needed to launch her design business full-time. That was two years ago and she has not looked back!
During the Fall / Winter '19 Kansas City Fashion Week Runway Show, models rocked custom, inspired Rissa's Artistic Designs. Needless to say, she won over the local community and her brand profile soared. Rissa's Artistic Designs is back for a second year to showcase in KCFW's Spring / Summer '20 Runway Show. I've got four words for you. Expect to be impressed.
Rissa's theme for the Spring / Summer 20 show is Elegance Unleashed and the focus is "coils." Every wearable art piece will have a coil. Are you intrigued yet? Based on last year's show, it will be nothing short of eye-catching, mood-setting and stunning! At the time of this writing Rissa is focusing on 5 or 6 colors in the Coils Collection, but don't hold her to that. She is a designer after all. You never know when or how the inspiration will strike - things may change.  You can expect to see 12 local models wearing her designs. Translation - mentally prepare yourselves to be wowed at least 12 times.
Rissa also makes jewelry for the everyday enthusiast and the styles range from chic to show-stopping edgy. Rissa's Designs are locally available in the Nelson-Atkins gift shop. Fun fact - she also opens up her home twice a year for guests to shop from 320 pieces. By all accounts, her home shows are quite the vibe; an experience you don't want to miss while you are shopping for original jewelry. She even has a live band to greet you and play music throughout the event.  Be sure you follow rissas_artistic_design on social media to find out about the home shows.
I can't leave you, without giving you an idea of what you are in for at the upcoming Kansas City Fashion Week Runway show. Rissa's Designs' last showcase was inspired by oak and resin. Go ahead and drool over this amazing and versatile creation: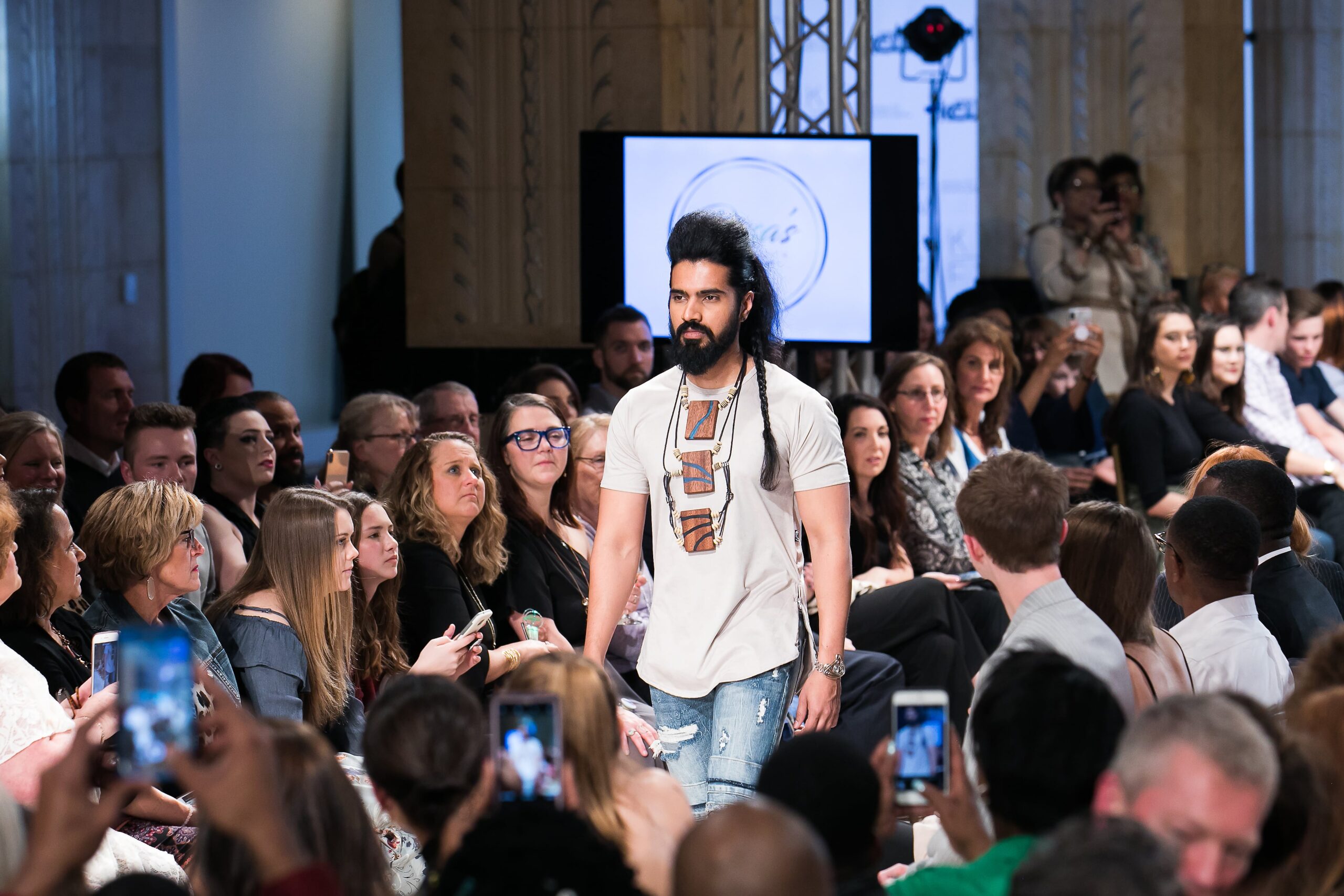 Do yourself a favor and check out her designs online at https://www.rissasartisticdesign.com/. I plan to be front and center for the KCFW Spring / Summer 20 Runway Show. I can-NOT wait to see what Rissa's Artistic Designs serve us.