When an ordinary blazer won't do look for simple but stylish ways to incorporate embellishments without going over the top. Making a statement here and there is fine, but often it is easier to do that with your accessories. Use your shoes, your baubles, scarves, or your handbags to be your statement maker. On occasion, on-trend blouses and tops can definitely serve up a statement. When it comes to pieces like outerwear, blazers, and jackets, err on the side of investing in pieces that will stand the test of time. At least attempt to get a few years' worth of wear out of them. This crochet sleeve blazer falls in that category. It has staying power. It's definitely not your grandma's crochet! At the same time, it's not ordinary. Praise hands - it isn't so trendy that it will be tired and played out after a year.
With the exception of the statement-making, bib necklace this is a fairly minimalist look.  Don't be fooled though. If you want to get bold or play it cool, you can. This particular crochet sleeve blazer is versatile. Imagine the gorgeous, contrasting looks you can create with colors like green, nudes, grey and pink tones. It will look just as good over tank dresses or cami dresses as it does pair with slacks or jeans. This crochet sleeve blazer is a no-brainer if you are looking for another way to complement your traditional blazer style. More good news for you too, this blazer does not cost a lot. I love to pair lower-priced items with higher-priced ones. Most of the time you cannot tell the difference; I enjoy the process of styling it all.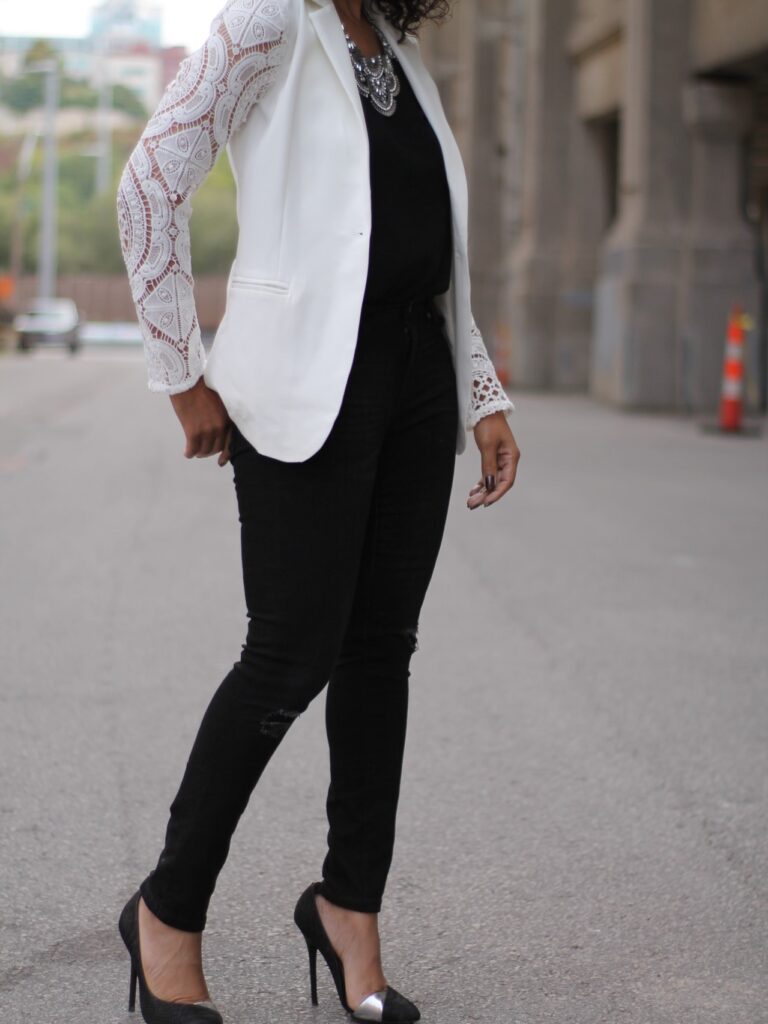 Shop the look:
Crochet sleeve blazer (SheIn) | Black Skinny Jeans (AG) | Black Tank (Banana Republic) | Heels (L.A.M.B. vintage) | Crystal Bib Necklace (similar style)
Hope you have fun creating your own fab looks with the crochet sleeve blazer or some similarly embellished blazer. Hope to see you in the comments.