Fact. I love Montego Bay. The culture, the people, the land, the food, the vibe...all of it. My mood all day, every day was "everything gwan be irie." I picked up some basic Patois while I was there! Montego Bay easily earned a place into my top destinations. The few minor things I did not enjoy were far outweighed by the things I loved.
Most people I know who travel to Jamaica recommend a resort, specifically a Sandals resort. I am an AirBnB type of traveler, even when traveling internationally. I want to experience the culture, get to know the locals and understand the history of the city I am visiting, as best as I can. I have a better experience when I'm NOT on a resort. I don't want to eat an Americanized version of the local food or hang out with other tourists. I want to immerse myself in the culture. In Montego Bay I stayed at the Ladywood Villa, a Russell Villas property. I highly recommend this property if resort life is not for you. Without sounding like a concierge (no shade intended) or a commercial for Ladywood Villa, it is nothing short of amazing. The staff is outstanding. The housekeeper (Latoya) and cook (Emsley) were a pair of the most thoughtful and engaging souls I've encountered. I have not had better service or better food for that matter in quite a while. I dreaded coming back to the Midwest leaving behind the food of the Caribbean: jerk lobster, fresh june plums, plantains, starfruit and papaya.
The Villa is beautiful - it will easily accommodate a group of eight. It boasts four-bedrooms and three bathrooms. All of the bedrooms are equipped with A/C - a must for a tropical climate like Jamaica. Even in October the temperature was knocking on the door at 90-plus degrees. Forget about being cute. Sweating and being cute don't go hand and hand. Focus on relaxing and enjoying yourself. That was my vibe! Back to the villa for just one more moment. Of course, Wifi is available just in case you need to "do it for the 'Gram" or check in back at your home base.  The estate also has two tennis courts onsite, which we used, an outdoor bar, a pool, multiple outdoor seating areas, and around-the-clock security. Bonus! Drivers can be arranged to take you wherever you fancy, including other towns if your explorer's hearts desire. It has got to be the best place to stay in the city. I would be amazed if there were anything better. Have I said how much I love Montego Bay and this villa? LOL.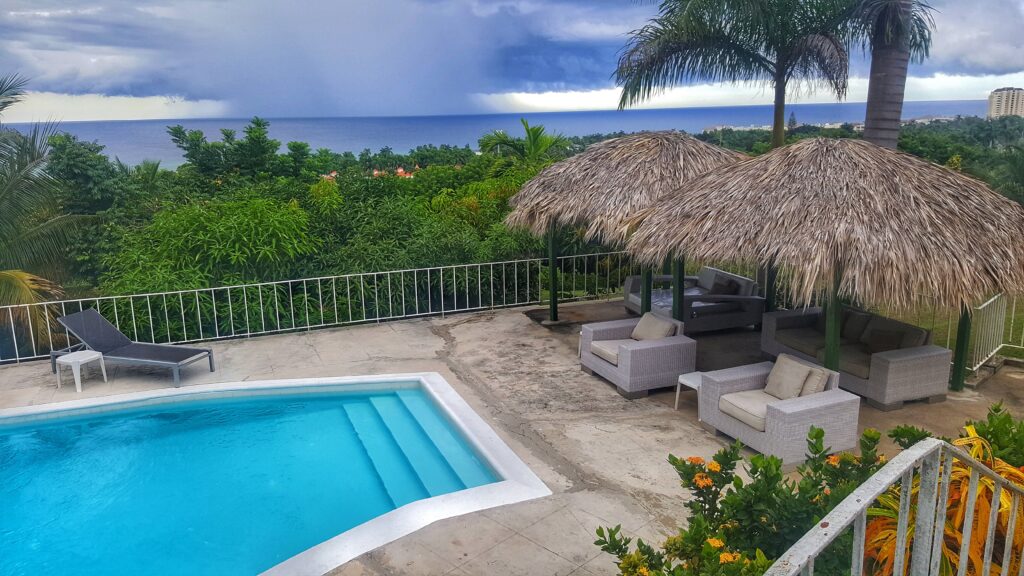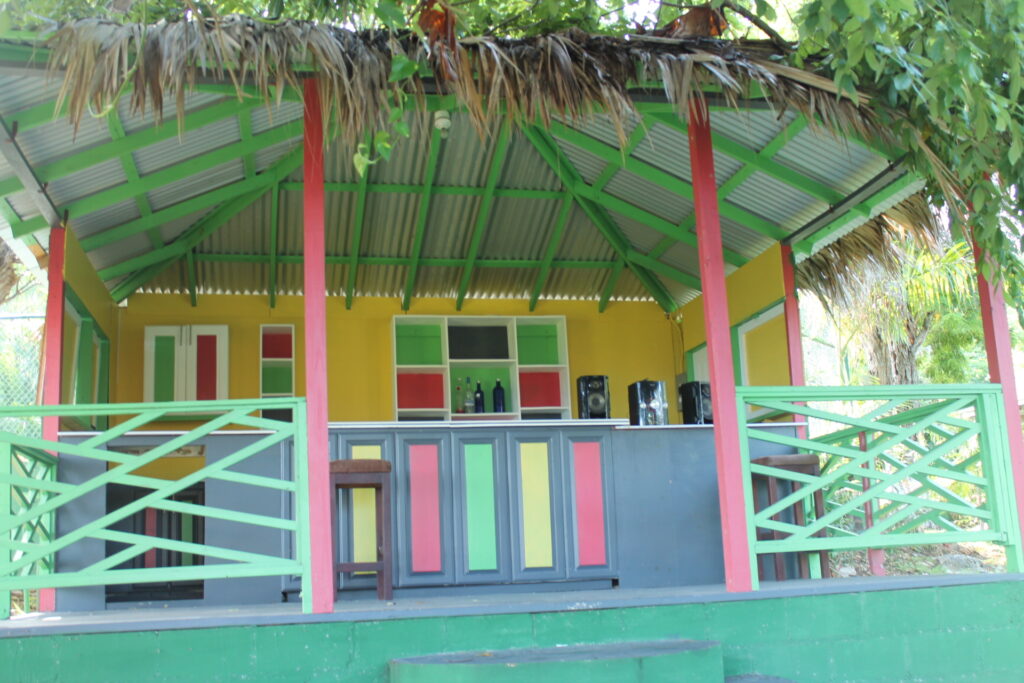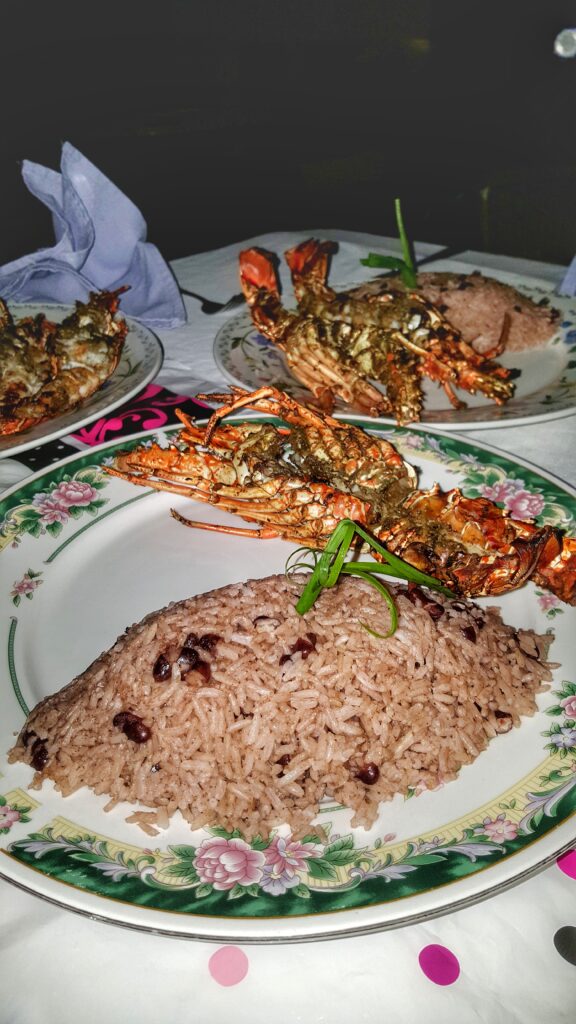 Not far from the Villa, maybe two miles away, is one of the most highly recommended, authentic places to eat, Scotchies. Scotchies specializes in all things spicy and jerk. Prepare yourself! It is open air - Jamaica is hot and the food is spicy. Got it? The upside is you get a lot of amazing food for very little money. I learned Festival Bread is easy to overdose on. Seriously, it is so good. I barely eat carbs but somehow I nearly ate half my body weight in Festival Bread. It's nothing more than a lightly sweetened cornbread cake. Paired with red beans and rice you can easily fall off of the low-carb wagon like I did *long sigh*. Scotchies is known for its jerk chicken and pork. I can't personally vouch for either but others in my party made return trips to Scotchies for the chicken if that gives you any indicator of whether it lives up to its reputation.
I don't think you can go to Montego Bay and not hit up Margaritaville. Whether you imbibe in cocktails or not, the ocean views, 120-foot water slide, water trampoline, and Caribbean sunset from the patio all collide to create some great memories. In Negril, Jamaica Margaritaville is home to one of the prettiest beaches - a seven-mile stretch. The water is warm and clear, private cabanas along with shaded lounge chairs are available, and your water activities are fueled by a combination of reggae and dance-inspired music. Of course, I visited both! I preferred Negril. The vibe was far more chill but I'm more of a beach person than a bar person. Margaritaville Negril did not have a club or bar feel at all. It's perfect for all ages.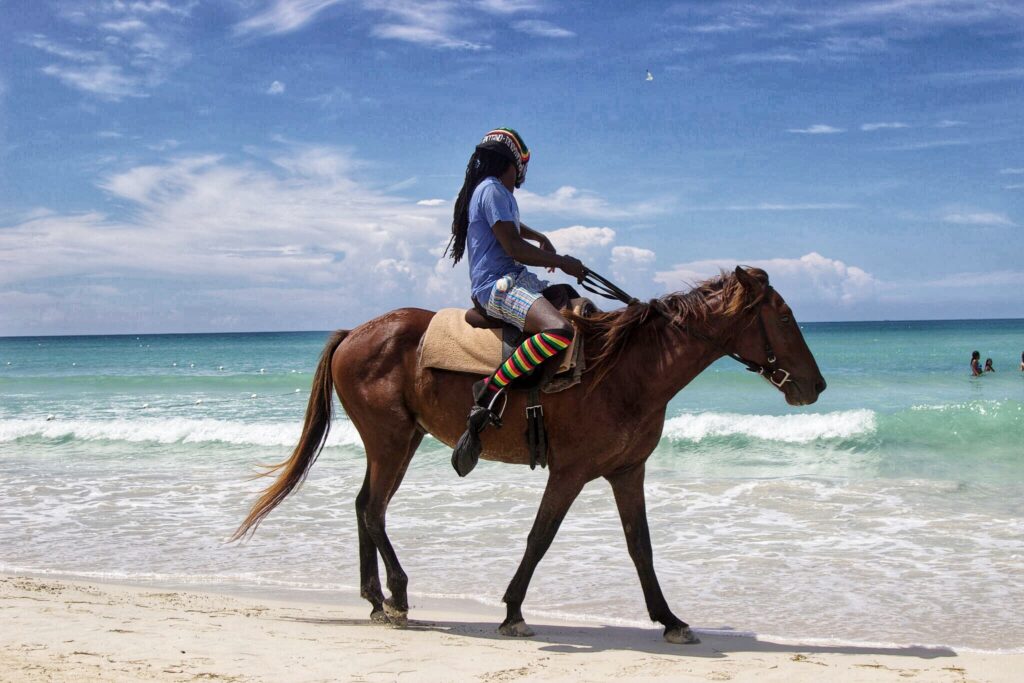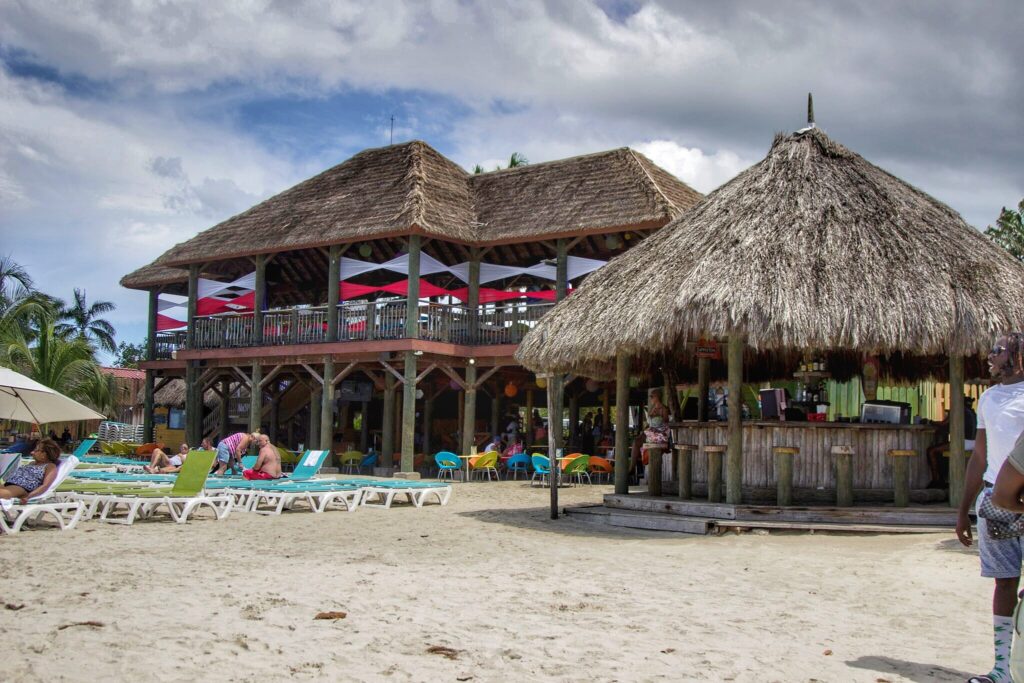 Margaritaville - Negril
For my thrill seekers, while in Negril, stop by Rick's Cafe. It is a hot-spot bar and restaurant which has become famous for its cliffs which someone figured out are perfect for jumping off. Personally, I have no idea why anyone would willingly jump off a cliff with a 35-foot drop. Rick's clearly has signs posted waiving any and all responsibility for injury and death, lifeguards are not on duty, the list of risks posed is plentiful and most jumpers fuel themselves with liquid courage. All. Bad. However, the view is breathtaking, and watching jumpers go through building themselves up to take the plunge is kind of entertaining. It is bustling with tourists so there is no shortage of people who think this is a good idea. I'm not advocating the jump but it is definitely a must-see destination if you are in Negril. You can still catch the rush from one of Jamaica's most famous spots.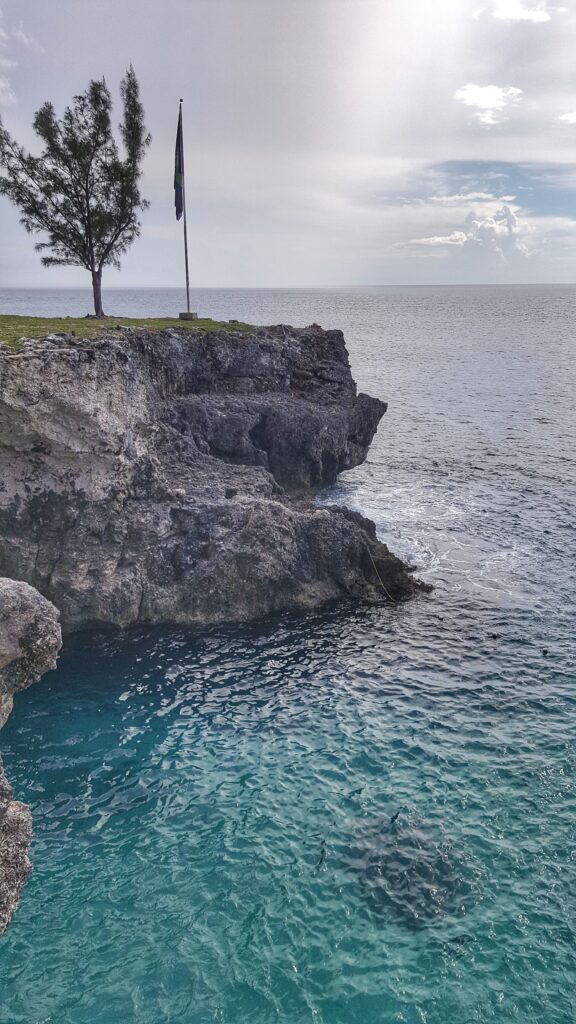 The only downside to Jamaica for me was the mosquitoes and the occasional hustlers. I knew I was allergic to mosquitoes but I somehow thought I was safe so late in the year. Wrong! My legs and arms looked like I'd lost the battle with a wasp queen. Brutal! Mosquitoes are definitely in the column of things I did not enjoy while in Jamaica. Everyone has to make a living, I understand that. I'd simply rather anyone approaching me to be upfront and make an offer to me rather than act like they are doing me a favor I did not ask for or want, then expect compensation. I don't mind helping someone out when I feel compelled to give. I don't like being made to feel obligated. It all worked out in the end. As I learned from the beautiful staff at Ladywood Villa, everything gwan be irie.